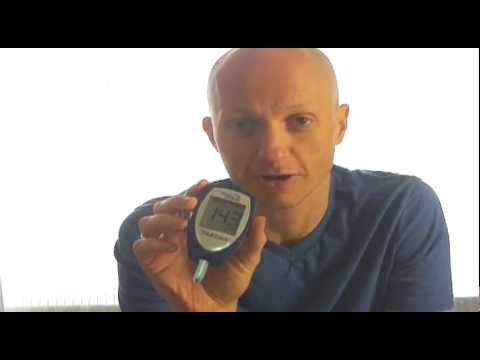 Maintaing healthy blood sugars is key to good health. I have found that stabilizing blood sugar is the first step in healing people of chronic ailments. Unfortunately  so much of the diet advice given today leads to high blood sugars. I decided to try some experiments to see how many of the so called "healthy" foods we are told to consume are actually making us worse. Most people don't monitor their blood sugars (with the exception of diabetics of course), but I recommend you do it to see how the foods you are eating are affecting you.
A good, accurate consumer glucose monitor is the WaveSense Jazz Glucometer.  A healthy fasting blood glucose is between 75-90 ng/dl. Ideally your blood sugar should not exceed 100 or so and stay within a fairly tight range. One of the many issues of elevated glucose in the blood is the formation of advanced glycosolated end products or AGE's. This is a protein-sugar debris that stiffens arteries, causes cataracts, neuropathy and kidney damage. While there is a normal amount of glycosolation that occurs in the blood, this process is accelerated when your blood sugar rises above 100. The higher the blood glucose, the more AGE's form. Acoording to the cardiologist Dr. Davis, author of the wonderful book "Wheat Belly":
AGE's accumulate in non-diabetics and wreak their age advancing effects. All it takes is a little extra blood sugar, jut a few milligrams above normal, and-voila-you've got AGE's doing their dirty work and gumming up your organs. over time, you too can develop all the conditions seen in diabetes if you have sufficient AGE accumulation.
If you have any questions or suggestions of different foods to try, leave me a comment below.