I was researching rosacea and acne treatments recently, and I came across some very compelling research done mostly in China by Dr. Zhao Zhongzhou, linking rosacea and acne to a microscopic mite called demodex.  So I started taking sebum samples from patients who were suffering from rosacea and acne and I found that in most cases I could find evidence of the demodex mite, I have a video camera on my microscope and was able to capture this mite  from a sample I took from a patient recently (magnified at 400x)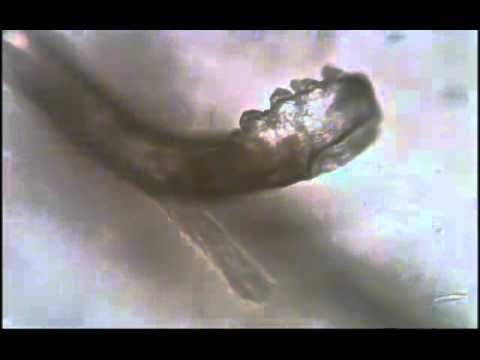 This little mite is likely responsible for up to 90 percent of all acne and rosacea cases, yet it is rarely looked for by dermatologists here in America.
There are two types, the long and the short, both which survive in the sebaceous (oil) glands.  They feed on oils, hormones and fluids around the follicle.  For most people, the mites are harmless and live in balance with their host. Like any infection, the body's immune system is responsible for keeping the mites from overproducing. Mite colonies can spread unchecked because patients cannot produce the antibodies needed to control the parasites.
Dr. Frank Flowers, a professor of dermatology at UF's Health Science Center, said "Under normal conditions, mites produce an antigen when they feed in a hair follicle, and then the human body makes antibodies against the bugs, thereby keeping their reproduction low and in balance," Butler said. "The mites are actually needed to make the antigen that stimulates the body into making protective antibodies.  If you have high levels of hormones, you're going to have high levels of mite reproduction because these anthropods obtain their steroids from the host."  This is likely why many women experience outbreaks of acne around their menstrual cycle and why teenagers experience acne. I've noticed that when many people remove dairy from their diet, their acne improves.  I used to attribute this to being a straight sensitivity to dairy. I now believe that the dairy may be just another stressor on the system that allows the immune system to not function optimally, thus allowing for the mites to reproduce at a higher rate.
The mite has a life span of about 15 days, and when they die the bodies decay inside the sebaceous glands. Since demodex spend all their lives inside the sebaceous glands, they physically and chemically affect the skin, reducing its immune competence, and causing allergic reactions in some parts of skin tissues, where acne breaks out. According to Dr. Zhongzhou, "If not treated properly with correct medication, the inflammation will reoccur. In more serious cases, the epidermis, or the appearance of skin, will be permanently injured, scars resembling the texture of orange skin will be left, hair  follicle pores will be enlarged, and the skin will become thicker due to hyperplasia. Sometimes, the inflammation even leads to superfluous tumors or lumps, and red nose." 
The way that a demodex outbreak is treated by most dermatologists is with a Metronidazole cream. However many people react poorly to this cream, and Metronidazole is listed by the US National Toxicology Program (NTP) as reasonably anticipated to be a human carcinogen. I recommend a demodex cream developed by Dr. Zhangzhou that can be purchased here .  This cream works great for all types of acne and rosacea. It can take several months to kill off all of the mites. Of course I also recommend removing all dairy products as well.
Please feel free to leave any questions or comments below.